Surely anyone can install a door lock? Will a locksmith actually do a better job? You better believe it!
Calder Security in Yorkshire observe that people like taking out their toolboxes and attempting a DIY, which can be fun and exciting if you know what you're doing.
You certainly wouldn't want to risk your and your property's security by doing it yourself or hiring a handyman who is neither trained nor qualified for the job.
Let's look at all the advantages of hiring professional locksmiths for your security needs.
Why You Should Use a Professional locksmith:
Have the necessary skill, expertise, and experience to work with all kinds of locking mechanisms.
Run a risk assessment on your existing locks and security measures.
Have adequate knowledge to recommend tailored solutions for each client.
Stay up-to-date with the latest lock technologies and are familiar with quality products.
Provide a holistic package that not just includes installation but a variety of other services as well.
Are quick at what they do because of their skill and vast experience under their belt.
Offer emergency callout services and can be counted on to respond to them.
Carry specialised tools needed to carry out the job in the least amount of time with no or minimal damage to existing locks, doors, or windows.
Offer services that come with insurance which means that any damages done to your locks or doors will be covered.
Have clear prices and quotes and will always give invoices with the cost breakdown according to the labour, material, and time.
Provide services of the highest standards because they have a professional reputation to protect.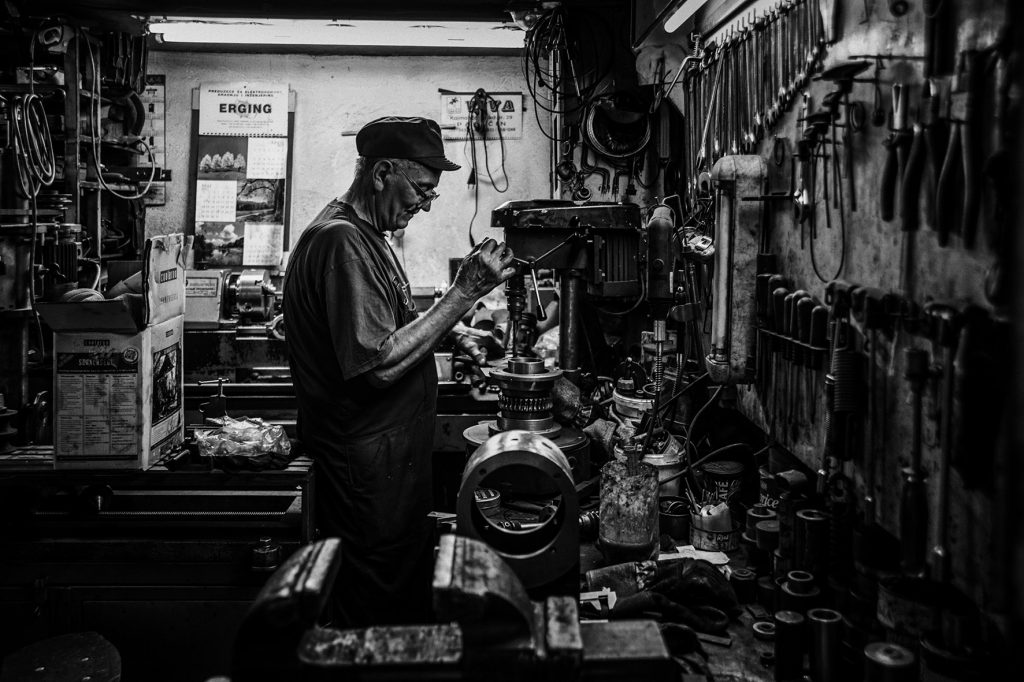 Working with special high-security locks requires a certain level of specialisation that often comes with a price. Some people consider professional locksmiths to be costlier than the average handyman and see it as a disadvantage to using their services.
We do not agree with them, and neither should you. All good things come at a price. Would you rather save a few quid and compromise the integrity of your security system by hiring someone who doesn't possess the right skills to do the job?
Inexperience – More Harm Than Good
An inexperienced person might do more harm than good causing damage worth a lot more than what you thought you initially saved. Professional locksmiths know their job inside out and provide the best services along with your money's worth.
Also, make sure you choose the right professional locksmith, and not just someone claiming to be one. There are a lot of fraudulent services operating under the guise of professional service providers and it is your job to properly vet them to guarantee they are certified and actually who they claim to be.
The Sage from Schlage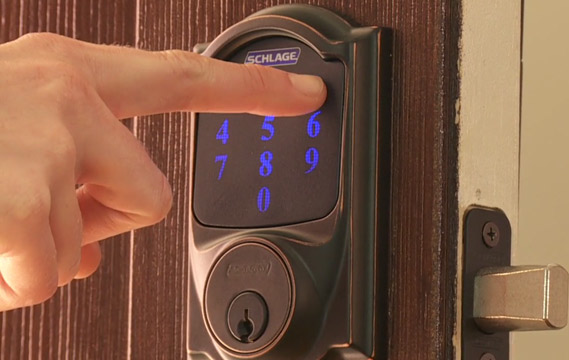 According to Jared Gehle, Schlage Channel Sales Manager: "You should look to a locksmith anytime you're not sure what you need or have any doubts about how to upgrade or install or upgrade your door hardware."
Says Gehle: "Fitting new hardware to existing door openings or undertaking something potentially complicated like rekeying or replacing a number of locks throughout your home can be a lot of work. A locksmith allows you to prepare for any eventuality, saving you time, money and aggravation."
Gehle concludes: "Even if you think you know what you're doing, don't hesitate to contact a locksmith for advice, a specific product recommendation or for helpful tips."
DIY Periodic and Preventative Maintenance
Did you know that the locks on your home or business must be maintained in order to be effective? Most people don't bother with lock maintenance, instead choosing to replace their locks completely when they become defective.
The Flying Locksmiths suggest that, if you keep up with the maintenance of your locks, however, they'll last longer and work better, saving you the money you'd spend on replacing them.
Owning a home or operating a facility for your business can be difficult and expensive. Door repairs are not something we typically are proactive on. Instead, repairs are made as issues arise but a little periodic maintenance can save facilities hundreds or even thousands of dollars.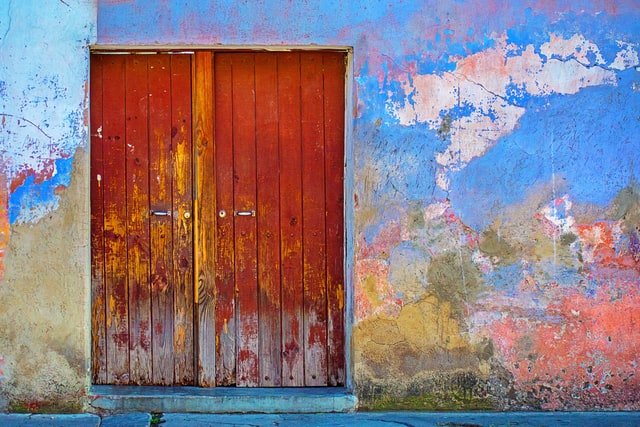 In general, doors take a lot of abuse. People use them to go in and out multiple times a day, putting to use all the hardware on that door, several times over. 
Lets take a closer look at the main areas that need maintenance to stay effective for many years.
Locks
LUBRICATION IS KEY IN LOCK MAINTENANCE
First and foremost, as soon as you notice a lock maintenance issue, be proactive. For example, if your key is particularly hard to turn one morning or won't move properly into place, you may want to try lubricating the cylinder.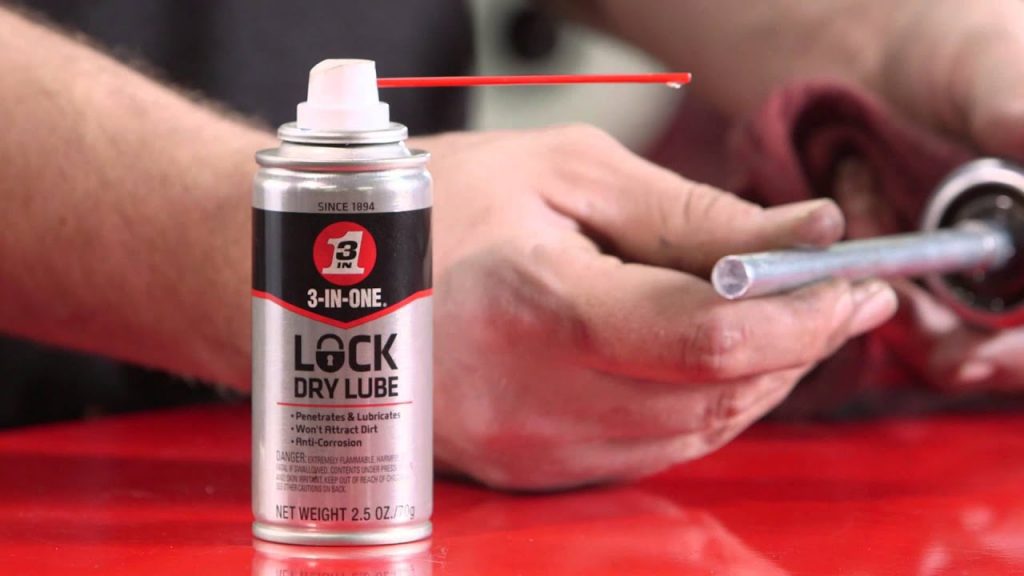 Lock cylinders consist of small pins and springs that need to move freely in order to operate correctly. When they start getting stuck, the lock will not function properly and can sometimes even break if you try to force it. Lubricating the keyway of the lock will get the pins and springs moving again and keep your lock in good working order. Apply lubricant liberally – you really can't over-lubricate, so more is always going to be better in these situations.
When you have finished, run your key in and out multiple times to help spread the lubricant around. You will also want to lubricate the bolt or latch on the side of the door. This will help to alleviate any problems with the locking mechanism itself.
HINGE ADJUSTMENTS
Door hinges inevitably wear down because they move every time someone opens the door, sometimes hundreds of times per day. With simple, routine maintenance, you can extend the lifespan of your hinges and save yourself some money in the long run.
The most common issue with most hinges is loose screws. Each hinge consists of six to eight Phillips head screws that loosen over time. You'll need a Phillips head screwdriver to tighten each one. Make sure to do both the frame side and the ones attached the door as well.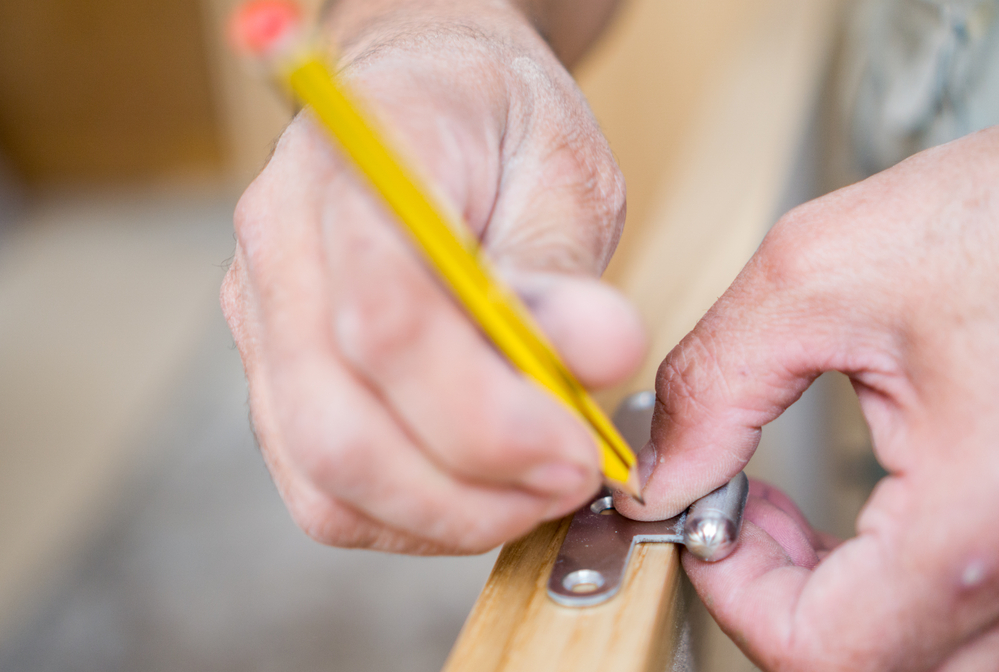 Tightening these screws will help align the door with the strike, which ensures that its latch or bolt falls into the correct place. It will also stop the door from rubbing against the frame, which can make a door unnecessarily difficult to open or close.
CLOSER ADJUSTMENTS
Door closers ensure that a door closes properly every time it is opened, enhancing security while limiting wear and tear. If your door closer is defective, however, it can have the opposite effect. A door that closes too slowly may not latch, while a door that is constantly slammed could loosen or damage its own lockset.
In order to maintain your closer's proper operation, there are three main adjustments you may have to make: swing speed, latch speed, and back check.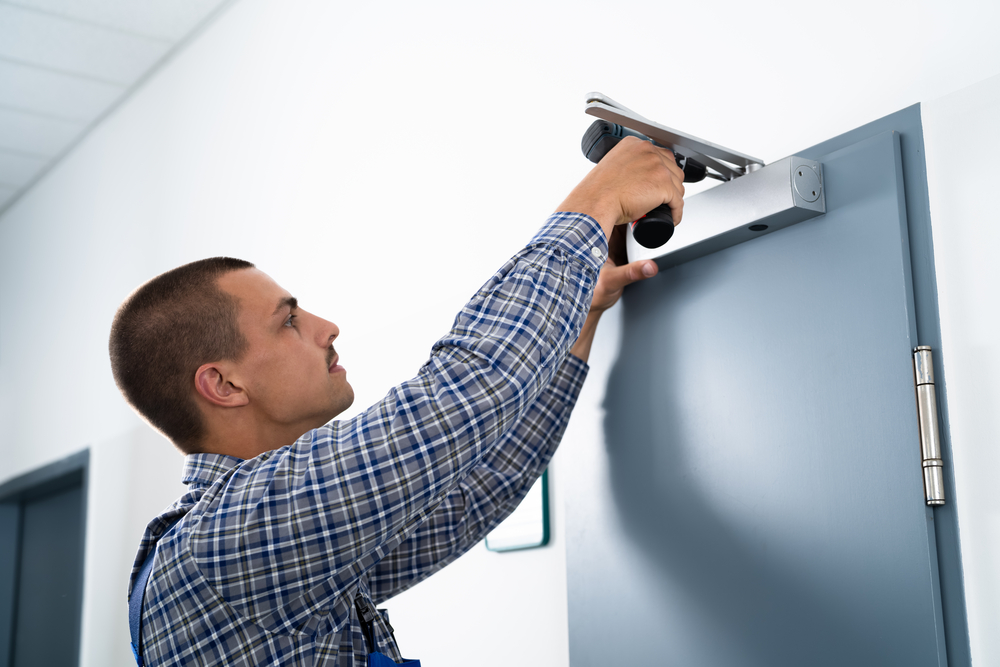 The swing speed and latch speed refer to how quickly the door swings shut and latches. These settings should be adjusted according to the conditions in which the door operates. For example, if you're in a windy area, you may want your door to close a little faster so that a sudden gust won't catch it and damage anything. An interior door in an office, meanwhile, should close a bit slower so that employees can easily walk in and out.
The back check adjustment affects the final few seconds before the door closes and the lock's latch falls into place. Not every closer has a back check, but it's important to adjust and test this a few times to ensure the door isn't accidentally left open.
EXTRA LOCK & DOOR MAINTENANCE POINTERS
Check for daylight between the frame and the door. If you see light between the two, the door may sag or the frame might be damaged. It will be much less expensive to repair your door now rather than call for emergency service later when the door stops closing.
Check the frame and floor for rub marks. You will be able to see when a door is dragging on the ground or against the frame. If you tighten the hinges this may help eliminate or lessen the severity of this issue.
Crash bars and exit devices need love too, so make sure to oil them properly. Remove the head and soak it down quarterly. This will help save you from emergencies.
Check the strike, which is the part of the frame that the latch or bolt falls into. If that hole is clogged with debris, then the lock won't function properly.
Is the latch exposed? If you stand on the outside of the door and have a wide gap between the frame and door, you might want to consider a latch guard to protect it from being pried open.
But Wait… There's more!
While there is a lot you can do yourself, there are other maintenance tasks where you would be better to call a locksmith.
ACCESS CONTROL MAINTENANCE AND WHY IT'S IMPORTANT
Your commercial access control system is an integral part of your business's security. These technologies are a central component in maintaining a secure workplace while improving efficiency and cutting potential losses to your bottom line. However, often access control procedures and technologies are neglected and can be deteriorated to an almost useless state. This is often from a lack of knowledge about access control technology or underestimating the importance such systems have on your business. Small errors will develop loopholes in your business's security system and are easily overlooked and can really come around to bite you if you are not proactive in fixing them.
WHY ACCESS CONTROL MAINTENANCE IS IMPORTANT
The most obvious problem with a malfunctioning access control system is potential security threats. A broken security system makes you a target for theft, attacks, and other incidences. Threats can include everything from unauthorized access of customers or employees in restricted areas to vandalism and asset theft.
Additionally, a malfunctioning access control system can clog the workflow of your employees and cost your business losses in productivity. Denying access of an authorized employee to areas and resources they need to do their job or manually restricting unauthorized individuals to specified areas can become a real headache. The best way to combat these potential problems is by implementing regular access control maintenance standards.
BEST PRACTICES
Dirt, dust, moister, and many other factors can cause wear on your access control panels, potentially disrupting their processes. Regularly cleaning the component will help increase the lifespan of the technology and save you from having to re-install equipment. It is important to have your access control panel inspected to increase the use of the hardware. The Flying Locksmiths can provide a certified inspection of your business's access control system.
Our inspectors will:
Give a visual inspection
Review system performance
Check battery supply
Clean hardware components
Check network connections
Test alarm systems
Check data logs
Provide owner with complete test results and any potential further maintenance needs
These access control systems are not cheap and you should take the time to maintain them and assure they are working optimally.
Conclusion
Before a small problem becomes a larger, more expensive one, call your local Locksmith. Routine preventative maintenance ensures that issues are fixed before they are exacerbated. Common issues include:
Broken levers
Doors sagging
Closers leaking
Broken hinges
Latch not aligning correctly
Well, that's the end of our local locksmith series.